The Q-5 Fantan is also known as the A-5 in its export versions, is a Chinese-built jet ground-attack aircraft based on the Soviet MiG-19. Its main role is close air support.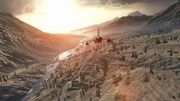 Development
Edit
The PRC was an enthusiastic user of the MiG-19, which it manufactured locally as the Shenyang J-6 from 1958. In August 1958 the People's Liberation Army requested development of a jet attack aircraft for the air support role.
Lu Xiaopeng was appointed chief designer of this project. Lu also designed the J-12 fighter jet. Although based on the MiG-19, the new design, designated Qiangjiji-5 (fifth attack aircraft design), had a longer fuselage, area ruled to reduce transonic drag and accommodate a 4 m (13-ft) long internal weapons bay. The air intakes were moved to the fuselage sides to make space in the nose for a planned target radar] (which was never actually fitted). New wings with greater area and reduced sweep were incorporated. The Q-5 shares the J-6's Liming Wopen WP-6 A (Tumansky RD-9) turbojet engines. The redesign costs some high-altitude speed, but the Q-5 is as fast as the MiG-19/J-6 at low level, thanks largely to the area-ruled fuselage.
Community content is available under
CC-BY-SA
unless otherwise noted.